You probably recognize Scott Dietrich from his regular appearances on YTV. Nightly, Scott magically introduced kid's favorite shows with his unique brand of street magic during YTV's, Big Fun Weeknights. He is widely recognized as one of Canada's premier children's magicians, and was voted "Toronto's Best Children's Entertainer" by the readers of City Parent Magazine, in 2012, 2013, 2014, 2015 & 2016.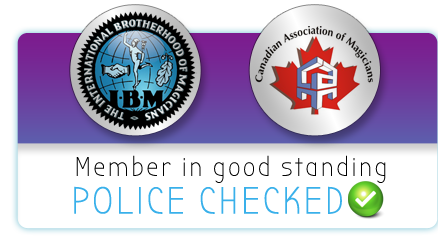 Scott was first recognized internationally at the age of 18 when he won 1st place honors as the youngest competitor in the Abbott's Senior Magic Competition in Colon, MI. At 22 Scott was named Showman of the Year at the Millennium Magic Convention in Limerick, Ireland.
He has performed for numerous professional athletes, celebrities, politicians and even opened for Juno award winning recording artist, Shawn Desman. Television appearances include Breakfast Television, Global News, CTV News, Daytime Toronto, Arrested Design, Big Fun Week Nights, and even Romper Room (when he was just a boy).
In October of 2012, Scott published his first children's book "I Can and I Did!" Through an uplifting story about a granddaughter and her grandfather, the value of perseverance and belief in self, take flight. Beautifully illustrated by Denise Garrido, Miss World Canada 2010, I Can and I Did! demonstrates that what you tell yourself does matter.
Out of everything Scott has accomplished, he is most proud of the work he is doing with School Heroes Unite. Having been bullied himself, not only can he identify with what students are going through, he can confidently tell them that it does get better, and give them the tools to get there.