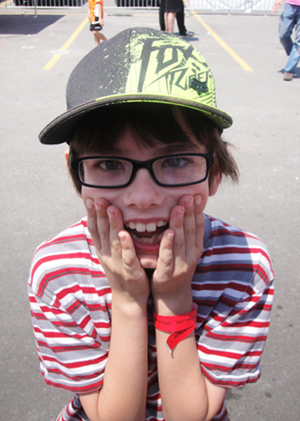 "Best Children's Party Entertainer, 2012, 2013, 2014, 2015 & 2016."
Readers Choice Award, City Parent Magazine
---
"Scott is a joy to work with. His fun, unique brand of magic fit perfectly with the national re-brand of our prime time television block. Scott's positive attitude along with his creativity and preparation helped us breeze through our shoot days and walk away with something special."
Mike Frolick
Producer, YTV
---
"Outstanding! Thank you so very much for the best birthday party a kid could ask for. I don't think there is anything that could top that show. Thank you for keeping the magic of childhood alive."
Cheri and Armando Cabral
---
"No words can express the happiness you brought into our home as we celebrated Noah's 7th birthday. Noah's reaction when he saw your bunny brought tears of joy to my eyes. Noah didn't want you to leave! Tonight we thank GOD for bringing you into this world & spreading cheer & love to those around you with your magic & smile."
Muna Delovski
---
"Thanks again for your wonderful magic at TIFF Kids this year. Your onstage show got rave reviews, and everyone commented on how easy you were to work with."
Emily Scheer
Sr. Manager, Family & Youth Programming
TIFF Bell Lightbox
---
"Scott was referred to me while I was looking to add some entertainment to our annual Kid's Holiday Party here at Kobo. We had a wide age range of kids attending, and I was worried that some of the kids may be too young/too old to enjoy the show. As it turns out, Scott captured the attention of everyone in the room, and had us all laughing and getting involved (including the exec team!) While we had some other fun activities at the party, Scott's performance was the highlight of everyone's day. My only worry now is how we can possibly top this for next year's party!"
Katie Pagett, Talent Acquisition Specialist, Kobo Inc.
---
"Simply a wonderful magician."
Marie H. Blood
Harry Houdini's niece
---
"Scott was terrific! He had the kids on the edge of their seats all night. We will be looking for opportunities to have him back."
Tim Tulloch
Bethany Community Church
---
"Hi Scott, I just want to thank you for entertaining the kids; they all had a wonderful time. Even though I planned on getting other things ready while you were entertaining, I couldn't stop myself from watching the show. The kids still talk about it. I would recommend you to all my friends."
Again thank you for a wonderful show,
Alicia Miner
---
"Good Morning, I just wanted to take this opportunity on behalf of all those who attended our recent Kenworth Toronto Children's Christmas Party, in particularly from the children, to say how much everyone enjoyed Scott's performance. (He seemed to be enjoying himself too!). He managed to attract every child in attendance to, gradually, come to the stage area and participate, and then held their attention throughout, thus ensuring the best behaved group of children I've ever witnessed at one of these events. He kept things relevant to his audience (mostly between 4-8) with tricks involving icons like Sponge Bob Square Pants and had about a dozen of the kids (of all ages) help him in his act. To my mind, it was the best children's entertainment we've ever had at one of these parties. Please pass along these sentiments to Mr. Dietrich on our behalf."
Thank you,
Marc Parfect
Kenworth Toronto Limited.
---
"Thank you for bringing your wonderful show to our End of Summer Celebration! The children (and parents) thoroughly enjoyed themselves during your show. You could tell by their laughter and their eagerness to participate! It was a fun-tastical show full of excitement and comedy with a little sprinkle of education. Your show opened their eyes to a world of magic and sleight of hand. We hope to have you (and Houdini the bunny) come back to visit us soon! Keep up the great work!"
Mary Cruz
Library Assistant – Children's Department
Albion District Library
---
"I want to take this opportunity to personally thank you for your visit to our camp this summer. This was your 4th year joining us and you were absolutely fantastic, the kids and staff loved having you. Looking forward to doing this again next year!"
Conor Bruzzese
City of Waterloo Day Camp Coordinator
Busker Mania Kids Camp
---
"Best Magic Show Man Ever!"
Samantha, Age 5
Neighborhood Nursery School
---
"Magic camp with Scott was better then my family trip to Italy!"
Daniel Smieja, Age 9
City of Mississauga, Summer Magic Camp
---
"Gilda's Club Greater Toronto is delighted that you will be performing at our Annual Holiday Party again this year. You have been extremely generous with your time and energy over the past 3 years. Gilda's Club Greater Toronto provides a place where men, women and children with cancer and their families and friends join with others to build social and emotional support. The success of our program depends on the strong partnerships Gilda's Club has with community partners like Dreams Revealed. Thank you for the generosity you have shown our community. As you have before, you will be providing your always entertaining magic show for the children of Noogieland. Holidays are always trying times for our members but people like you make the holidays that much easier. This was hugely demonstrated with all the smiles and happy memories your past shows generated. Your kind and generous spirit is always felt in the way you interact with the children. Everyone (adults included) watches with fascination and amazement at the magic tricks you share. You are always so great to work with we are thrilled to have you back again this year."
Sincerely,
Heather Fletcher MSW, RSW
Program Facilitator, Gilda's Club Greater Toronto
---
"Hi Scott, I just wanted to say thanks for your show at Malcolm's party on Sunday. We all had a great time and I thought you dealt very well with the comments from the peanut gallery. I'll definitely recommend your act to friends."
Best of Luck,
Kirsten Douglas
---
"I would like to thank you once again for providing such a spectacular comedy magic show. The kids and counselors were thoroughly entertained by your amazing stories and magic tricks. The kids also really enjoyed learning the pencil trick . We thank you so much for being such a positive part of our communities' growth. We also really appreciate you donating your book to Cecil Community Centre Library."
Stephanie Agyei
Summer Kid's Series Coordinator
Cecil Community Centre
---
"Scott's children's magic show is an engaging and entertaining family event. His skill, humor, and enthusiasm captivate the audience."
Heather Alblas
Acting Children's Services Coordinator
East Gwillimbury Public Library
---
"Scott Dietrich performed at the Weather Network's Children's Christmas Party and was outstanding! I can honestly say, without a doubt, that his show was indeed the highlight of our party. He easily held the attention of the audience both young and old, and had them gasping at every trick he performed. The awe struck look on everyone's face was so priceless. As the organizer of the event, I was emphatically thrilled with the success of our party, and I attribute most of that to Scott's amazing performance.  Scott was so great and such a pleasure to work with that I booked him for 2 other events before I even saw him perform!
Thank you Scott for everything! You are truly a very talented performer and a great person to know."
Gina Frew
Social Committee
The Weather Network
---
"All of those in attendance were astounded by your magic."
Karen Young
Events Coordinator
University of Toronto, Faculty of Medicine
---
"Scott, You offered the kids (and adults too!) a great interactive show with lots of laughter. We heard from parents and kids that it was perfect for our young children. It was just the right length and really a lot of fun for the kids. It was the first time we did a Fundraiser Magic Show at our School. The first show we had about 250 people with about a 140 of those kids. The second show we had about 150 people with about 90 kids. We made a PROFIT OF $1,616. I'm sure that next year's School Council will be giving you a call for a show.
Thanks so much!!! I look forward to working with you again."
Regards,
Patti Smieja
Fundraising Committee Chair
McKee School Council
---
"We have been fortunate to have Scott showcase his talents here at our Montana's for four years and running. He has not only become children's favorite, but the parents even look forward to seeing him. Scott is fun, very outgoing and kid friendly. Not only do the little ones look up to him because of his height, but because of the person he is with them. Scott has been a great asset to our restaurant and has built his own fan club; which means the same satisfied families come back again and again."
Penny Patas
Director of Operations
JuSTCuisine Inc, Montana's Toronto, Sudbury, Brampton
---
"Dear Scott, Thank you very much for your exciting show at the Mississauga Central Library during our March Break. You have a great stage presence and a wide variety of tricks which were enjoyed by all who attended. I would not hesitate to recommend your show to others and we hope to have you back soon."
Blair McBurney
Senior Librarian - Children's Department
Mississauga Central Library
---
"I just wanted to thank you again for coming to Mooredale Day Camp last week! We had a great time watching your show and the kids and staff really enjoyed it. Some of our Jr. Campers have been drawing pictures of your Bunny and hanging them around Camp. We're looking forward to having you back again in October."
Jessica Procyshyn
Mooredale Day Camp
---
"The parents and children were very much entertained and thoroughly enjoyed your performance. Your contribution has made a great difference in the people's lives in the High Park area."
Sincerely,
Kamila Binczak
Program Coordinator
More Than Child's Play, Family Resource Centre
---
"We loved your show! You won the hearts of children and adult's alike… one little boy's reactions were so perfectly enthusiastic that people actually asked if we had "planted" him in the audience… Thank you so much for an amazing show!"
Rachel Threkeld
Coordinator
The Children's Aid Society of Hamilton
---
"Your presentation was awesome! Mind you, I am still scratching behind the ears hoping you didn't leave anything there! Ha Ha!"
Beckie MacDonald
Branch supervisor/Children's Specialist
Oakville Public Library – Iroquois Ridge Branch
---
"Everyone loved seeing this new star in the making… Scott's flawless technique combined with superb stagecraft cannot fail to take him to great heights."
Elizabeth Warlock
Journalist
The Linking Ring (International Brotherhood of Magicians monthly magazine)